Waveform*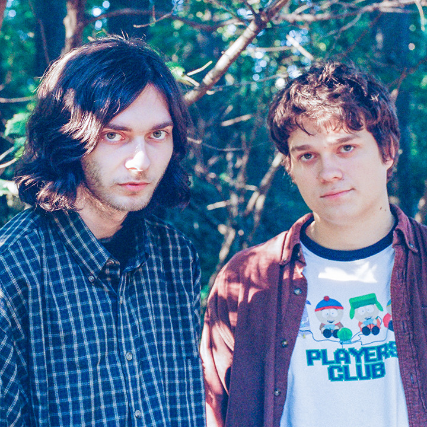 On Last Room, the third album from the Connecticut-based waveform*,, there's a purposeful hollowness. It's a record you can fall into, a collection of music that's unafraid to venture into emotion, exploring the gaping distance that develops in some relationships, the constant confusion that accompanies self-discovery, and the darkness that accompanies abandonment.

Nothing is said outright on Last Room. There's no declaration of material certainty that allows you to fully discover every secret or moment of meaning on this recording, but the duo comprised of Jarett Denner and Dan Poppa intended it to be that way. They want you to step into their cavernous auditory journey, to lose yourself in a state of wandering as you find your own story, creating a personal narrative gleaned from their collection of mysteries.

Recorded on a laptop in Jarett's bedroom, the album comes with a discernible feeling of intimacy. Despite their close proximity to one another, Jarett and Dan chose to complete much of the album apart, exchanging ideas and finishing bits of music through email. They traded off responsibilities, one focusing on a song's structure, while another considered the emotional details and coloring.

"Hello Goodbye" is the only of the album's singles that waveform* considers to be collaborative, as the two worked on it together before it was recorded. It's also among the record's most poignant and reflective, a back-and-forth of admitted unease placed between continued pleas for someone to stay are set against lush, light guitar. Its final moments are one of admittance, as a repetition lyrical confession ("I can't relax at all") is left to linger.

That same rare moment of confession is also etched within the charge of "Blue Disaster." It's a track that sways between two energies, trading out an electric beginning and a calamitous conclusion for the occasional quiet that punctuates devastatingly honest lyrics: "I was on a tightrope all the time/had a blue disaster but it's fine/there was something i was reaching for/but that's no more."

Formed while still in high school, waveform* was created out of the pair's mutual appreciation for music. Over the last few years, waveform* has continued to grow, attributing an increasing interest in fans to an era dominated by Internet discovery and streaming. A sound comparable to Melania Kol, Alex G., Title Fight, Have a Nice Life, and Teen Suicide, the band has also performed live with Strange Ranger, Beach Bunny, Pince Daddy and the Hyena, and Lomelda. Their previous releases -- Shooting Star and Library -- were released in 2018 and 2019. Last Room, released in 2020, is being rereleased through Run for Cover Records.
Social Links
There are currently no upcoming events.