Temple Of Angels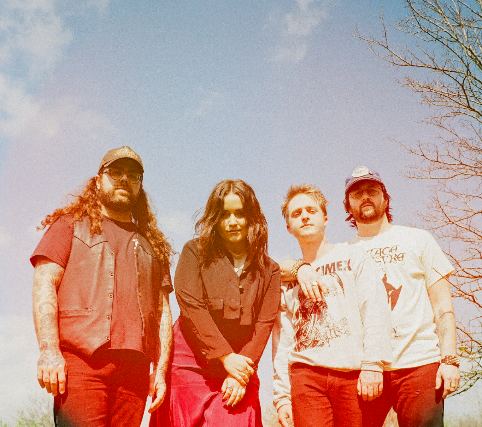 Temple of Angels' debut full-length, Endless Pursuit, is a towering and stunning album of gothic beauty that heralds the proper arrival of one of the most dazzling bands performing right now. Shaped by the ghosts of the past and the wonder of the present, the release is dream pop at its most striking, using the haze and beauty of the genre not to blur songs til they are impenetrable in every sense, but rather to capture the fleeting wonder of new love and emphasize the confusion and disorientation of loss.

Formed in 2017 in Austin, Texas, Avery Burton (guitar/vocals), Patrick Todd (drums/vocals), and Cole Tucker (guitar) had all played in various hardcore and punk bands around town for years, but were keen to explore the dreamier, moodier music they enjoyed as well. After recording a few demos, they recruited Bre Morell (vocals) to be their lead singer. The new group self-releasing two EPs–2017's Temple of Angels and 2018's Foiled–and a single on Funeral Party Records in 2019, and were soon performing with the likes of Beach Fossils, Iceage, Narrow Head, and Turnover as well as at festivals like Levitation and Not Dead Yet.

Now Temple of Angels have arrived with Endless Pursuit. Recorded with Colin Knight (Death Bells, Fury, Leisure World) and Phillip Odom (Ceremony, Militarie Gun, Portrayal of Guilt), and then mastered by Will Yip (Turnover, Citizen, Title Fight), the album sounds so fully formed and assured that it belies the difficult circumstances that inspired it. While Temple of Angels started working on Endless Pursuit in 2020, the pandemic and Morell's move to Los Angeles meant that the band wouldn't start recording it until late 2021. In that in-between, separated from friends and partner, Morell began to fully process the loss of her mother in 2017. "I started having extremely vivid nightmares reliving certain experiences with my mom that started to take over my life, trapping me in that trauma," Morell explains. These dreams, filled with "the constant feeling that something or someone so essential to you is missing, home doesn't feel like home anymore, and something about this world just feels off now" would form the central core of Endless Pursuit. A sense of unease can be heard in the eerie lumber of the title track that opens the record, all shimmering, spider-like guitar lines and Morell's hushed vocals swirling together. Or the way Morell's voice reaches a pained, aching wail in the finale of "Lost in Darkness", capturing the sense of person or moment that is truly lost forever.

Yet Endless Pursuit isn't just sorrow and anguish. Moments of joy and comfort are also present throughout the album. "Sometimes a beautiful dream will sneak in past the nightmares, which inspire a lot of my writing as well, specifically these dreams I had as a teenager that took place in a past or future life in some kind of parallel universe," Morell confesses. "I've been thinking about those dreams for 16+ years and they still consume me." A song like "Tangled In Joy" is the band at their brightest and catchiest, an avalanche of jangling guitar chords and Morell's vocals at their sweetest, swelling and cascading over each other. The band aimed to limit the effects they used on Endless Pursuit in order to further step away from being labeled shoegaze, and the result is an album that's bolder and sharper–more willing to step out of the shadows.

It's fitting that Endless Pursuit ends with "(For You) I'd Lose It All," a track that's as grandiose and gigantic as The Chameleons at their peak and possibly Temple of Angels' most anthemic song to date. With Todd taking center stage on vocals, out pours a tale of desire so intense it consumes every part of your being, matched by a thunderous rhythm section, and amplified into the heavens by soaring keyboards in the chorus. It feels almost defiant; a refusal to ignore something wonderful even if it may just end in more sorrow.
Social Links
There are currently no upcoming events.