Starbenders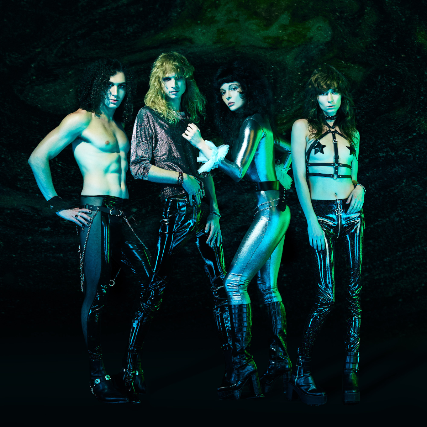 Hailing from the ATL, Starbenders are the half way home for misunderstood misfits, fringers and glam punks. Front-woman, Kimi Shelter and her gang have concocted a perfect alchemic blend of androgynous rock and roll power with "stuck in your brain" pop melodies. Imagine David Bowie playing 7 minutes in heaven with Debbie Harry.

Shelter began working with producer, Nico Constantine (Lady Gaga , Program The Dead, Institution Records) in 2014 who encouraged her to start a band. Aaron Lecesne was the first call Shelter made. The duo were best of friends and had intense music crushes on each other. The genesis of Starbenders took form. Guitarist, Kriss Tokaji, entered the scene in early 2015 after the band witnessed him laying waste to a guitar at a shitty house party in the middle of no where. "We couldn't believe our ears and eyes! Our prayers had been answered!", beams Shelter. The dream line up crystallized in 2017 with the entrance of drummer, Emily Moon. "It was the final piece to the puzzle. The band was in the middle of a transition and I thought to check craigslist of all places when I came across Emily's ad." shared Lecesne. After responding to the band's cryptic email, Moon met up with them that same night. It was love at first sight.
Social Links
There are currently no upcoming events.