Poptropicaslutz!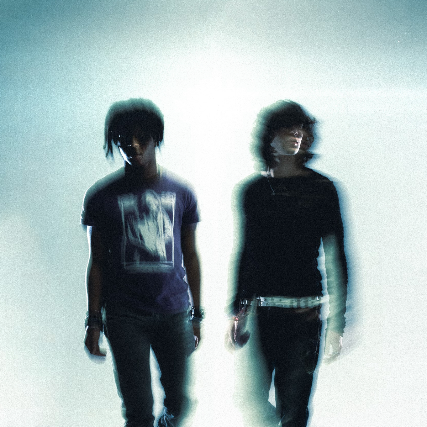 "If it hadn't been for the pandemic, I would have never had the guts to say no to Cornell." By the end of 2019, Christian Cicilia was living the typical life of a Long Island-based, college-bound high school senior. His hometown friend and future poptropicaslutz! bandmate Nick Crawford was one semester into his first semester of community college with plans to transfer to Parsons. But as March 2020 rolled around and a global pandemic upset their respective plans, Crawford and Cicilia decided to take advantage of the moment and form poptropicaslutz! — a genre-surfing hyperpunk project brimming with nonstop hooks and pop-fueled energy.

Now 20 and 21, Cicilia and Crawford are genuinely living out their dream: They're newly signed to punk/alternative incubator Epitaph Records and actively working on the much-anticipated follow-up to their 2022 just in case the world ends DELUXE EP, which is produced in part by the band's close collaborator Aldrch (Midwxst, Aldn, Contradash) and mixed by Brian Moncarz (Alice Cooper, Circa Survive) and Matt Mallpass (Blink 182, Trippie Redd). As songwriters, Cicilia and Crawford both draw considerable inspiration from a variety of genres and decades, imbuing their glitched-out, auto-tuned melodies with elements of Fall Out Boy, Hellogoodbye, Juice WRLD, Kelly Clarkson, the Black Eyed Peas, and '10s SoundCloud rap.

"When I'm sitting down to write a song, I'll try to get inspiration from a random thing, or however I'm feeling about a specific person," Crawford says of his process. "If we're writing together, I try to take something in like the room to write about. Like our new song 'bittersweet teeth — we were in the studio with Nick Long and Andy Seltzer, and they had a photo album in the studio. Looking through it, I was like, let's make a song about capturing a moment." Crawford connects this process to another upcoming song, "Where The Wind Blows," which he and Cicilia built out from the word "PRISM" being written out on the studio's wall.

The last couple of pandemic years provided ample material for poptropicaslutz! to pour into their debut, just in case the world ends. "I feel like if COVID didn't happen, I would never have wanted that to be the name of our debut EP," laughs Crawford. "But when things started getting bad, it was like one new, terrible thing every few days. Whether it was COVID or the BLM riots. I was like, 'wow, the world's really ended. It's the end of the world.' EP opener "WW3" (featuring RIZ LA VIE & GRANDMA) captures this apocalyptic feeling; over banging percussion and crunchy guitars, the two trade tongue-in-cheek lyrics about IRL catastrophes seen through a virtual lens ("One day I'll die, and you'll just think I'm offline").

Despite the generation-defining global events that shaped them, poptropicaslutz! also pour classic young-adult angst into their songwriting. The glitch-pop/dance-punk single "TEEN POP SENSATION," for example, goes hard with live-for-now energy. Layering auto-tuned vocals reminiscent of Panic! At The Disco, the band pushes listeners to live for the present moment, even in the face of naysayers and outside chaos: "Then you dance, dance, hoping it'll mask the pain/ Baby, fuck it, do a handstand, go insane/ Like there's nobody watching/ They're all just critics anyway, so act out of pocket."

It's vital advice for anyone — regardless of age. If poptropicaslutz! themselves hadn't decided to say "fuck it" and form a band, none of the success they've seen — between the sold-out shows, Spotify New Music Friday placements, and glowing write-ups in Ones To Watch — would be happening. But, in addition to having uncanny ears for melody, Cicilia and Crawford are strategic and focused on making the most of this moment. "If I'd gone to Cornell, I probably wouldn't be making music," Cicilia says. "I was always the goody two shoes smart kid. I didn't want to let anyone down. But the pandemic made me turn around and say: 'Whatever. This is a once-in-a-lifetime thing."

Social Links
There are currently no upcoming events.