Man or Astro-Man?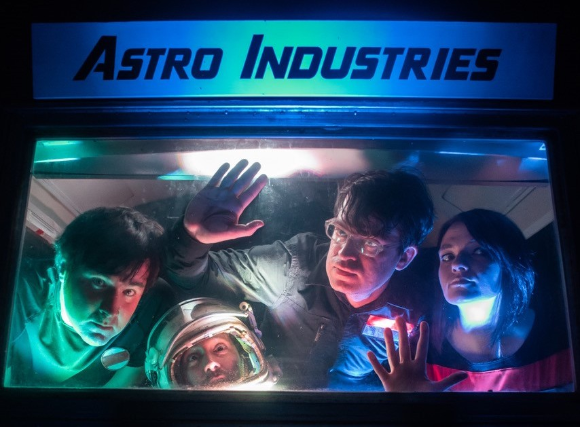 Some years ago, a young collective of extraterrestrials arrived on this planet and happened upon a small college town in Alabama. Home to both otherworldly jazz guru Sun Ra and rocket scientist Wernher von Braun, it is clear that Alabama is a direct linkage to outer space. In order to integrate into human society, these aliens would disguise themselves as a rock band, the perfect vehicle in which to traverse the globe and further their research. They would soon be known to the people of Earth as Man or Astro-Man?.

Unearthing thrift store records by the likes of Link Wray, The Ventures, Dick Dale, Duane Eddy, The Marketts & The Safaris – Man or Astro-Man? began to formulate their own blend of the retro-futuristic inspired by their offbeat musical discoveries. Innovative stage sets and designs by Kraftwerk, The Spotniks, The Residents, Devo, Sun Ra, and The B-52s also had an impact on the emerging ensemble.

Man or Astro-Man? began playing countless shows in the Southeast with bands like Southern Culture on the Skids, The Woggles, Hillbilly Frankenstein, The Subsonics, and The Flat Duo Jets. The group soon caught the attention of Estrus Records' owner Dave Crider who released their full-length debut, Is it…Man or Astro-Man? (1993).

The label's design aesthetic revolved around the other-wordly concepts of designer Art Chantry whose works melded perfectly with the Astro-minds. Destroy All Astro- Men (1994), Project Infinity (1995), and several EP's were also released by Estrus.

Touch and Go Records released all later Astro-transmissions. Experiment Zero (1996) was recorded in three days with engineer Steve Albini at Zero Return Studios in Alabama. Now drawing influences from the future (as well as the past), the band began to extend their use of samples, computer programming, homemade instruments, electronic gadgetry, tape splicing, and other bits of Earth technology. Both the 1000X EP (1997) and Made From Technetium (1997) were darker steps into the futuristic soundtrack realm.

Now, Man or Astro-man? have returned to Earth and unveiled their finest recorded work to date. Defcon 5…4…3…2…1 is here now with a striking validity that the band is unquestionably as both tuneful and energetic as they ever have been. The record combines ever-familiar Astro audio tones and the well-established playing ferocity that the band is known for, but yet now, there is an undeniably evolution to the band that is both intuitive, logical and well crafted. Man or Astro-man? has arrived in the present (and future, of course) with imminent purpose. And of course, they still bring an over-the-top, sensory overloaded show, which has always gained them a reputation for always being an undisputedly amazing band to see live.

Social Links
There are currently no upcoming events.