Jelly Ellington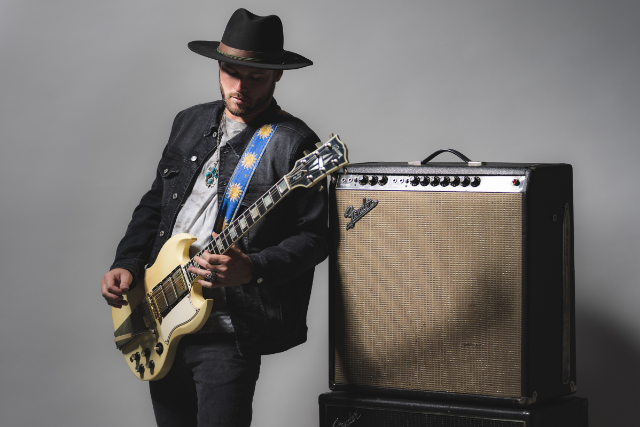 Claiming Texas home for the last nine years and originally from Asheville, North Carolina, Jonathan "Jelly" Ellington, has been courageously crafting his unique sound as an American guitarist, singer, and songwriter since first picking up the guitar at age seven. An electrifying fusion of impassioned vocals and vivacious guitar playing, Jelly delivers his Blues-centric Rock and Roll by way of his dynamic stage presence and evident classical training. The inspirational spark was first ignited at a young age after seeing the Los Angeles Guitar Quartet. Since that moment, Jelly picked up the nylon string classical guitar and studied and trained only classical music until the age of 14, when he was introduced to the electrifying musical prowess of Led Zeppelin. The segway between Jimmy Page's classical approach to songwriting and guitar playing is what led to Jelly's passion for going full electric Rock and Roll. Attending hometown hero Warren Haynes' Annual Christmas Jams in Asheville, with his Dad, he became even more influenced to meticulously craft his musical destiny.
Making the move to the Lone Star State in 2011 with a Rock band call Treetop Sailors, Jelly authentically incorporated himself into the Austin music scene with local groups such as Candi & The Muthaload, The Warplanes, MC Overlord, and even touring with a few Country acts out of both Austin and Nashville. Since 2016, Jelly decided to fully hone into creating a name for his own sound, dedicating his time and energy to his solo pursuits. Having shared the stage with Grammy Award-winning artists and Texan icons alike, there is no wonder he was voted in the Top 10 "Best Guitarists" in the Austin Chronicle's Austin Music Awards in both 2018 and 2019.
Following his first album All In, Jelly is currently fresh off the release of his full-length sophomore album Not All Who Wander Are Lost. A genuine testament to the finesse of this craftsmanship over the years, Jelly and his band (composed of his brother, Andrew Ellington on drums, Stefan Ringer on bass, and Cole Gramling on piano, clavinet, and organ) have birthed a truly delectable union between Texas Blues and his Appalachian roots. Jelly Ellington says it best himself "My mission with this project is to carry the torch of Rock and Roll, particularly guitar-driven Blues Rock. To take what I have learned from classic rock bands and guitarists, and push it forward with my own spin on it to continue making it relevant in today's age. I want to inspire the younger generation of guitar players and musicians to play guitar, start bands, get off their phones, and make people feel happy and liberated with their music." Check out the spirited Blues-Rock band on all streaming platforms and playing at regional venues near you!

Social Links
There are currently no upcoming events.