Finish Ticket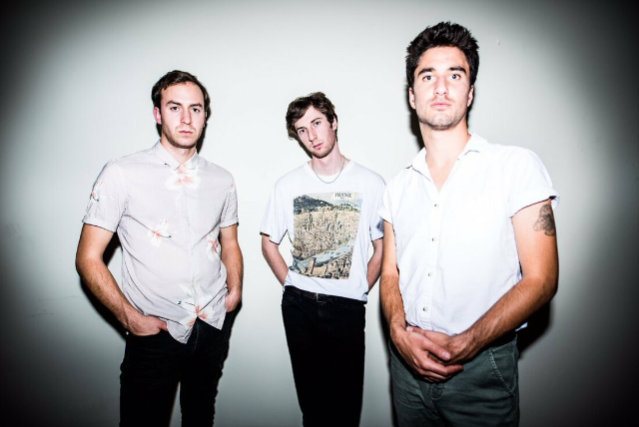 Finish Ticket is a band of brothers and friends from the San Francisco Bay Area. The group was formed in 2008 by twin brothers Brendan and Michael Hoye and good friend Alex DiDonato in high school. Influenced by bands like The Killers and The Strokes, they shared a vision of blending dynamic, guitar-driven rock with upbeat, melodic and pop hooks, with an emphasis on a thrilling, high-energy live show.

"In the early days, no one would take us seriously because of our age," says guitarist Alex DiDonato. "We were playing shows in bars every weekend with bands of people in their mid-to-late 20s, and we were only 16-17. We realized that our live show had to be awesome to change everyone's perception, and that became our driving force. Our goal was to prove to everyone that we were serious about our music, that we were more than just a high school band."

They quickly honed their skills and rose through the ranks of the local music scene, winning a competition to open a local radio station's annual arena show, and eventually opening for bands like Phoenix and The Black Keys. After the independent release of their self-produced 2013 album, Tears You Apart, the band toured nationally and has sold out every Bay Area show since, including the iconic Fillmore. They also played main stages at several popular music festivals, including Outside Lands and Bottle Rock.

"It took time to find our sound," says lead singer Brendan Hoye. "We were trying really hard to become part of the local scene – it was an inspirational community with so many great bands – and it was important for us to find our own voice. We practiced all the time, and a big part of our band has always been playing live. Playing shows constantly over the years really helped shape us. We always want the recorded version to be incredible, but we want the live show to be even better."

Tears You Apart caught the attention of Elektra Records, who signed the band in 2014 and immediately re-released the album. They toured nationally the following year, playing well over one hundred shows in twelve months.

Their EP, "When Night Becomes Day," opens a new chapter for the rising Bay Area alternative rock band. Recorded and produced in Oakland, CA and mixed by Mark Needham (The Killers, Imagine Dragons), the EP's surging tracks, which veer from buoyant pop to propulsive rock, pulse with live energy, giving the listener a tangible sense of the musicians. "The songs all feel like you can picture them live when you hear them," notes Brendan. "They're some of our best live songs, and we recorded them with that goal."

Many of the songs off "When Night Becomes Day" evolved out of the band's frequent trips to the Stein brothers' family cabin in the Sierra Nevada mountain range. "The cabin is like our sanctuary, a place where we can be free from any external pressures or distractions and just write music and jam out all day. We make each other breakfast, we go on walks through the forest whenever we want to take a break - it's the perfect environment to be creative together," explains Alex.

The lyrics on the EP are deeply poetic, tracing questions of morality and the self. Brendan, who consciously avoids more common topics in his songwriting, pushed himself into other lyrical subject matter. "Wrong," a boisterous number that was originally written as an acoustic song, investigates how reaching adulthood never meets your expectations, how growing older doesn't necessarily offer a clear path to anywhere. "Color," the EP's flagship radio single, emerged as a surprise while in the studio, showcasing the band's skill for layered, soaring rock melodies and introspective lyrics that connects the group to their fans.

"A lot of our fans are transitioning to adulthood just like we are," Brendan explains. "I want my lyrics to help them get there. Some of the lyrics talk about dealing with the future, but in a way that any age group can relate. We talk about real things that everyone is going through. It's important to us that we're not just writing songs about love and girls, because that's what's expected."

Following last year's tour supporting Fueled By Ramen recording artist twenty one pilots on their sold-out nationwide Blurryface Tour, Finish Ticket kicked off 2016 with Live Nation's "Ones To Watch" tour, which they co-headlined with Vinyl Theatre. This summer sees them supporting Fitz & The Tantrums on tour, as "Color" makes waves at alternative radio.
Social Links
There are currently no upcoming events.